Why a "call center CRM"?
Most call center systems revolve around the telephone system and have a very poor and/or limited front end capability. FIVE CRM comes from the other direction, it has the front end CRM capability directed towards call center operations.
In addition, FIVECRM differs from "standard" CRMs due to the fact that standard CRMs were built out of the mold of contact management systems. Whereas FIVECRM's legacy was that it was built for the call center environment. What does that mean? For outbound calling it means at least doubling the number of calls each agent makes, in addition it means better and easier management of data, calls and agents, and also not forgetting reporting capabilities.
What is it used for?
The most common implementations are for telesales and inside sales, but there are a lot of organizations using FIVE CRM for telemarketing and appointment setting. Whatever your reason for doing high volume outbound calling, FIVE CRM was built to do it.
Call-list management and call-back management are both key to the success of an outbound call center – and these are functions that are the foundations of FIVE CRM . In addition, options include call scripts and several ways of doing sales orders. The extreme flexibility means it can be a simple or complex as you need.
Dialing options for the call center CRM
In a call center automatic dialing is a "must". Use CTI to integrate FIVE CRM with your phone system, the ability to auto-dial means that efficiencies are drastically improved. Agents can click-to-dial, or alternatively the system can dial automatically. When dialing automatically, it is possible to insert a delay based on the status of the record, ie if it is a call-back with notes to be read then the agent will need more time before speaking with the customer.
Call list management
Ensuring agents call the best records goes a long way to getting the best results. In addition, automated handling of call-backs means agents do not have to rely on alarms or other notes. As you'd expect for a call center system, extensive User Profiles enable admins to tightly control what data agents have access to and also how they work.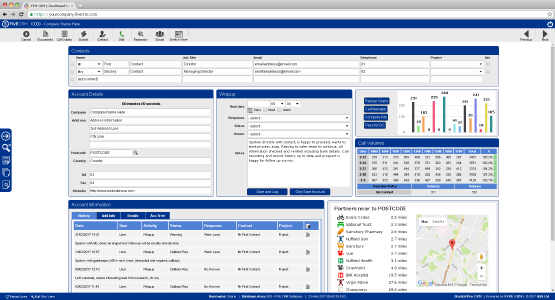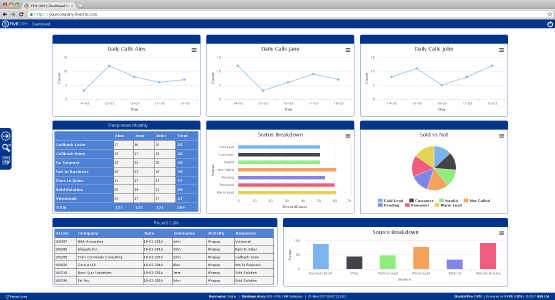 Sales Orders
Telesales in the call center needs different ways to take orders. In FIVE CRM you can choose the quickest and most effective for your scenario. Options to use objection handling to encourage sales. Quantity discounts, manufacturer pricing, tax calculations; flexible document design. Unlimited reporting on sales details.
Reporting
Reporting within the call center to produce the all-important KPIs is essential. To that end the powerful in-built report writer enables non-technical people to create their own reports on the database. Reports can be list, summary or cross-tab (pivot table), and can be on any data in the database. In addition, reports can be scheduled to run and email automatically. Report layouts can also be designed to have a more aesthetic visual appearance. Another option is to put reports on dashboards and presented on wall board screens around the call center.
Call Scripts
Operations in a call center mean high volume calls and  FIVE CRM has two options for Call Scripts: there is the relatively basic Call Guide which is a single page of formatted (HTML) text, and also there is the rather more advanced Call Scripts. The full Call Scripts employ automatic logic to present the next question, this could be based on what the agent clicks on, or based on the value of fields. In addition, there are several ways to collect information and ask different questions.
Call Center Dashboards
Dashboards in the call center tend to be an essential tool to keep everyone up to date with events and what's happening. The FIVE CRM system has a range of options to present data in the most suitable ways. Most customers have wall-boards which automatically update and keep agents motivated.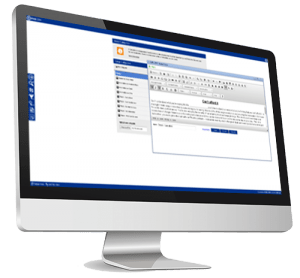 Lyreco are a major distributor of office supplies in 42 countries. Click

here

to read about their experience.
Learn more about FIVE CRM, the call center CRM