Setting the standard in call center CRM
FIVE sits in a specific niche in the market, with its unique features of multiple databases, true blended inbound/outbound and call management. FIVE includes call center functionality not found in "regular" CRM systems and CRM functionality not found in "regular" call center systems.
Dialing options
Use CTI (no extra charge) to integrate with your phone system, the ability to auto-dial means that efficiencies are drastically improved. Agents can click-to-dial, or alternatively use power dialing. When dialing automatically, it is possible to insert a delay based on the status of the record, ie if it is a call-back with notes to be read then the agent will need more time before speaking with the customer.
Call list management
Ensuring agents call the best records goes a long way to getting the best results. In addition, automated handling of call-backs means agents do not have to rely on alarms or other notes. Extensive User Profiles enable admins to tightly control what data agents have access to and also how they work.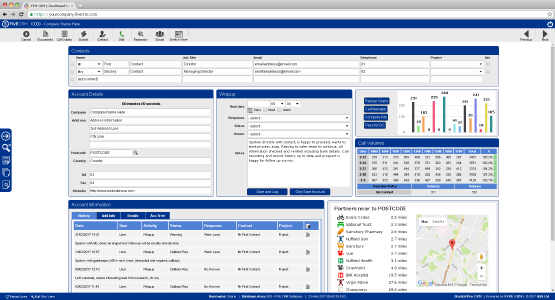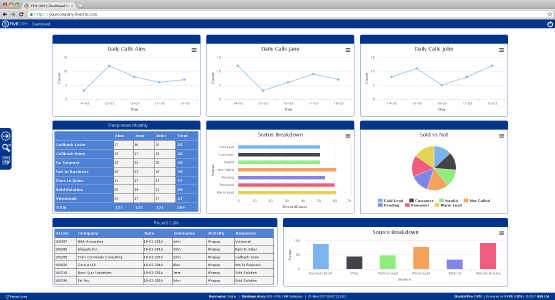 Sales Orders
With different ways to take orders, you can choose the quickest and most effective for your scenario. Options to use objection handling to encourage sales. Quantity discounts, manufacturer pricing, tax calculations; flexible document design. Unlimited reporting on sales details.
Reporting
The in-built report writer enables non-technical people to create their own reports on the database. Reports can be list, summary or cross-tab (pivot table), and can be on any data in the database. In addition, reports can be scheduled to run and email automatically. Report layouts can also be designed to have a more aesthetic visual appearance.
| | |
| --- | --- |
| • | Use automatic workflow cadence to ensure a contact mix that gets results |
| • | Use predefined call scripts, call guides and email merge templates |
| • | Full built-in advanced email campaigns |
| • | Get documents signed from FIVE using Docusign or Adobe Sign |
| • | Schedule automatic reports to keep on top of events |
| • | Use automatic dialing to eliminate wasted time (optional) |
| | |
| --- | --- |
| • | Use AI to set the best call back time |
| • | Automatically present call backs at the right time |
| • | Find contacts via the internal LinkedIn tool |
| • | Tweet contacts directly from within FIVE |
| • | Real time live coaching on calls using listen/whisper/barge (with appropriate telephony) |
| • | Track deals with opportunity management |
| • | Can be used with a predictive dialer such as TCN.com or Noblesystems.com |
Learn more about FIVE CRM