Come and see us at B2B Marketing Expo and Call & Contact Centre Expo: March 27/28 2019 at ExCel, London
Hi there!

Europe's leading event for marketing, call centres and outbound sales.

Last year's B2B Marketing Expo and The Contact and Call centre Expo were huge successes. This year we expect an even higher attendance. This annual event will equip you with the tech and strategies that will be transformational. Mark your calendar for March 27 – 28 at the ExCel London.

Many of our customers who have contact/call centres/outbound sales teams were at last years show. After meeting with them at the show it was clear that their attendance had a significant impact on their operation over the last year.

This is your chance learn how the latest technologies can benefit your strategies and as the lead sponsor we are in a prime position to help.

Get your free ticket to the show here:
https://www.eventdata.co.uk/Forms/Form.aspx?FormRef=BTB39Visitor

Best Regards,
Hi there!
As mentioned in our first email FIVE CRM are the lead sponsor of the above events and you can still register for your free ticket now.
Come and see us if you are interested in:
Telesales
Use quick dialing, call list management, orders, reporting, user management [more].
Telemarketing
Develop prospects over time, accumulate information, call scripts, statistics and reporting [more].
Lead generation
Combine email and calling campaigns to generate leads. Email marketing can be used to initiate the contact and followed up by call [more].
Lead management
Nurturing leads, manage prospects by regular contact to drive through the sales cycle [more].
Account management.
Complete customer information, include history, products, orders, activity tracking [more].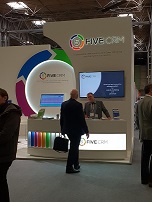 Please contact us for more information and to book your no obligation demonstration.
Regards,
Hi there!

As I mentioned in my previous email in the build up to the B2B Marketing Expo and The Contact and Call centre Expo, if you need a call centre CRM that is highly flexible and highly functional, look no further. FIVE CRM was built from the ground up to be among the most configurable on the market.

In preparation for the B2B Marketing Expo and The Contact and Call centre Expo this year, I want to focus on our FIVE key areas which are Telesales, Telemarketing, Lead Generation, Lead Management and Account Management.

This week we will look at a few of the key features for Telesales:

Dialling options
Use CTI to integrate with your phone system, the ability to auto-dial means that efficiencies are drastically improved. Agents can click-to-dial, or alternatively the system can dial automatically. When dialling automatically, it is possible to insert a delay based on the status of the record, i.e. if it is a call-back with notes to be read then the agent will need more time before speaking with the customer.

Call list management
Ensuring agents call the best records goes a long way to getting the best results. In addition, automated handling of call-backs means agents do not have to rely on alarms or other notes. Extensive User Profiles enable admins to tightly control what data agents have access to and how they work.

Sales Orders
With different ways to take orders, you can choose the quickest and most effective for your scenario. Options to use objection handling to encourage sales. Quantity discounts, manufacturer pricing, tax calculations; flexible document design. Unlimited reporting on sales details.

Reporting
The in-built report writer enables non-technical people to create their own reports on the database. Reports can be list, summary or cross-tab (pivot table), and can be on any data in the database. In addition, reports can be scheduled to run and email automatically. Report layouts can also be designed to have a more aesthetic visual appearance.

Please contact us for more information and to book your no obligation demonstration. You can call me on 01249566010 or just reply to my email.

Next week we will look at Telemarketing. Of course, if you want to discuss one of other FIVE areas we specialise in, don't hesitate to get in touch.

Regards,
UK
Quality System Solutions Ltd
Lansdowne Court
Bumpers Way
Chippenham
Wiltshire SN14 6RZ
United Kingdom
Contact details:
Phone: (+44) 01249 566 010
Monday – Friday
8:30AM – 5:00PM UK Time
US
FIVE CRM LLC
Suite 101
4500 140th Ave N
Clearwater
FL 33762
USA
Contact details:
Sales: (+1) 844 227 3123
Support: (+1) 727 474 1407
Monday – Friday
9:00AM – 5:00PM EST
Do you have a specific question, comment or enquiry? Simply fill out the form and we'll get back to you soon.