CRM software
If you need a CRM software that is highly flexible and highly functional, look no further. FIVE CRM was built from the ground up to be as configurable as possible, it got to the point that we were able to split it into five separate products to allow clients to choose the most appropriate system (and functionality) for them.
| | |
| --- | --- |
| | The full system |
| | The perfect calling system |
| | Flexible and complete CRM system |
| | Marketing automation combined with CRM |
| | Email marketing combined with CRM |
With constant development FIVE CRM is at the forefront of modern requirements and now contains specific functionality to handle the new GDPR (General Data Protection Regulation) rules from the EU.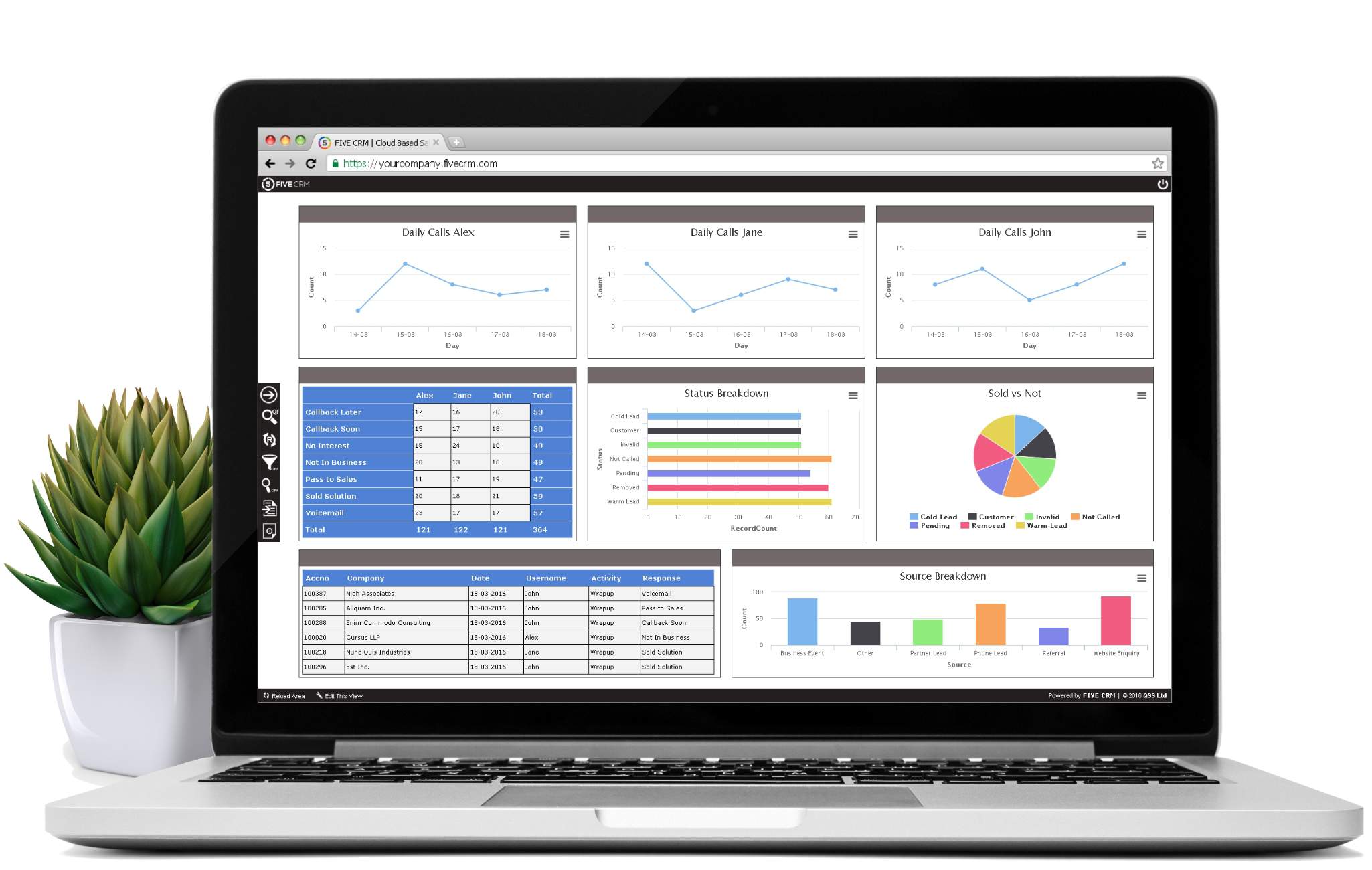 "[We] have been using FIVE CRM for around six months. We find it easy to use and it works well. The added extras like lead scoring and email marketing are great. The support is fantastic! They are friendly, knowledgeable, polite, very patient and quick to reply and fix. I have no hesitation in recommending FIVE CRM to anyone."

Petra Smit, Managing Director | All Telemarketing

"We have been using FIVE CRM for quite some time and watched it develop. It is a very easy to use system which means it does not take much time to train new people on it. It is great how it can be bespoke to your clients' needs and the staff are excellent helping out if you need their assistance. Much easier to use than Salesforce of Goldmine. Would through recommend using it and it is cost efficient too!"

Antonia Lennon, Sales Director | Lingo Telemarketing

"We have been looking for an effective email marketing solution for a couple of years until we finally found FIVE CRM. We have used other software before but we have always needed a built in CRM. Before it was a nightmare getting two different pieces of software to communicate to each other, finally we can forget about these problems."

Alex Green, Managing Director | More Play

"I looked at and trialled over a dozen CRMs over a period of months. I knew I would know what I needed when I saw it. When I saw FIVE CRM, I knew I had found what I wanted. Adaptable to every clients' needs, adaptable to my own usage. I like my stats and reporting, I like to know what is happening with my campaigns and exactly where we are up to."

Helen O'Neill Nash, Managing Director | Real Business Development Ltd

"I've been using FIVE CRM now for just over 6 months and it's completely transformed our company. It really is the perfect software for growing businesses. It's crammed with features - the crm, website tracking results feeding directly back into it, calling functionality for our telesales team... the list goes on."

Wayne Smithers, CTO | Ascendance

"FIVE CRM allocated a chap to me that I can only describe as a software genius. He wrote a tailored program to port over every single piece of information over from the Excel format. It's worth pointing out, that FIVE CRM is 'very' customisable, so I took full advantage of the system and got to work tailoring it to my own needs."

Joe Schwok, Managing Director | IFA