COVID-19 NOTICE: We would like to advise that as a hosted system FIVE CRM is not only ideally suited to remote and home working, but since mid-March all staff have been remote working. This means you can rest assured that our systems and service remain uninterrupted and at full strength.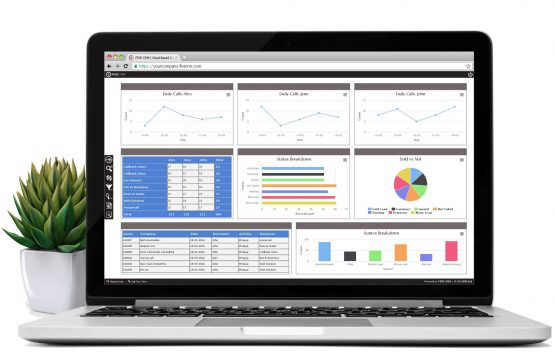 To fully understand the system capabilities and request a free one-on-one demo, contact us by clicking here
---
"Having used most of the CRM systems in the market in the past 15 years I can say with certainty that Five is by far the best.  With it being customisable for each client area, providing full visibility and transparency to clients for reporting, allowing agents to have designated call lists which makes our teams so much more efficient.  The email marketing tool is easy to use and provides needed stats on clicks and opens. The ability to increase or decrease licences provides flexibility and helps be cost effective and the support services are always friendly and quick to resolve any issues.  Could not recommend highly enough."
Flexibility: key to a call centre CRM
Call centre system admins are able to change the content of the screens very easily without any technical knowledge. In addition there are a number of workflow options which mean admins are able to automate functions, reduce manual errors and increase efficiency. Originally created for outbound calling, the system has had a massive amount of development and is now a fully featured call centre CRM system. With its extreme flexibility it is able to cater for a very wide range of requirements, we often find ourselves implementing a system for a customer who has been unable to find another system to fulfill their requirements. While still very happily filling the role of a leading system for outbound calling, more and more implementations are due to the outright flexibility of the system. See the video below to see some examples of how FIVE CRM can be configured.
Lead Generation
Having a system that allows you to send email campaigns, trigger responses and call-back people who re-acted in a certain way makes lead generation so much more effective. It may be that you don't get good results from cold calling, but instead you're just following up an email which the customer has interacted with then results will be dramatically improved.
Outbound calling
Most customers use FIVE CRM because of its outbound calling functionality which is much more developed that in "standard" CRM systems. In addition, the CRM functionality is more developed than found in "standard" call centre systems. The use of the functionality is optional, so if you just want a truly flexible CRM this system will suit you well, but if you need a system to manage outbound calling then will most likely be a far better fit than "regular" CRMs. The system includes call list management, user/agent management, call guides/scripts and statistics – not to mention phone interaction and auto-dialing – all things required in the call centre but not found in regular CRM systems.
Email marketing
With no need to export and import data, creating email campaigns is simple. The whole setup process is covered from data segmentation to planning a range of emails as a drip campaign, to data update automation. It is the automation stemming from opens and clicks that makes this function unique. It is easy to configure it to update fields, notify people and drive future campaign steps.
Databases
Having the ability to have multiple databases can be really beneficial, you could have one for B2B and one for B2C, maybe one for customers, one for suppliers, even one for staff holiday tracking. As each database can be configured separately, each one can be made to be exactly what is needed for that requirement. In the scenario of an outsource call centre, the multiple databases comes into its own. But even in a "normal" inhouse environment, the multiple databases mean you don't need a whole new system for each department. In addition, there are virtually no data limits whether you want 100k or 1m records. You need to be sure that your call centre CRM is capable of fully doing the job you want it to do.