Why keep CRM and email marketing together?
Having your email marketing in the same system as your CRM gives you a massive benefit and includes it all as standard. It means your operation becomes like a well oiled machine: just select the data you need and setup your email campaign, everything is logged in the CRM records, create a warm call list of people depending on their interaction with the emails, efficiently call your new prospects.
Email Setup Options
• Regular emailing makes a difference
Research shows that it can take 7 touch points to get a customer to engage. Using multi-step (drip) campaigns achieves this by automating those campaigns. Just set it and leave to work.
• Activity tracking
FIVE is able to automatically track email opens and link clicks. Knowing how recipients interact with emails gives you information as to who are the real prospects.
• Marketing is nothing if you don't know what happened
FIVE gives you all the statistics you could want with full statistical reporting. See who and how many opened emails, who clicked on links, and even those that didn't click on any links  – maybe for knowing who hasn't signed up for an event.
• Save time with updating CRM records
FIVE can automatically update the CRM records based on the recipients actions. For example you could set it to update the value of a field if they click link "1", or update differently if they click link "2".
• Let the system manage unsubscribes for you
When a recipient clicks a link to unsubscribe you don't want to have someone to action that request manually. With FIVE the CRM record is updated directly, saving time and the possibility of incorrectly sending more emails.
• Strike while the iron is hot!
The best time to contact people is when they've just done something relevant. So if they click a link to your website you could call them straight away after the system sends an automatic notification
• Do you need the email to include information from the CRM record?
Using FIVE you can setup an email document so that it can draw any information from the CRM record, even lists of data such as products, contracts or services they have.
• Send from any validated email address
Using an SMTP provider such as sendgrid.com you can send emails from any address that you can validate. For example, if you want to send emails from your customer to their customers, you can!  And because of the way that FIVE's database system works you can do this for up to 999 customers at the same time!
Email Campaign Options
• Create a warm call list
Easily select those recipients that opened emails, clicked on a link, or clicked on a specific link. Then apply that list to a call list as a warm call campaign.
• Gain maximum effect from a website user submitting a contact form
Set your contact form to kick-off a new multi-step email campaign when someone completes a contact form on your website.
• Advanced segment and campaign send
Use wide ranging tools to segment your data and send emails to a highly targetted audience. The better the targetting the better the results will be.
• Automate campaigns to send to people when a criteria is matched
Setup predefined selection criteria and set the system to check and send automatically in the background.
• Increased customer contacts increases the likelyhood of a sale
Having had a good call with a customer why not then automatically kick-off a new multi-step(drip) campaign to keep them informed?
• Start a campaign automatically as a result of a link click
Keep the customer contacts going after they click on a link in an email. Set links to automatically kick-off a new multi-step(drip) campaign.
• Use SMS as an alternative contact method
So long as you have mobile/cell numbers on your contact records all the same email campaign functionality can be used to use email-to-SMS.
• Unlimited campaign size
There is no size limit when using the FIVE email campaign system. The only prerequisite is that you have a suitable SMTP email service, we recommend sendgrid.com.
• Use landing pages and contact forms
Create landing pages as a call-to-action from your emails. Drive contact forms into the CRM directly for immediate attention – the quicker you respond, the more likely you'll be successful.
Email Campaigns
Email campaigns are a very cost effective part of a marketing strategy. From a targeted list of contacts, data selections can be made and multi-step campaigns scheduled. Each step can be driven from the previous step in terms of selecting recipients who opened a previous email, or clicked on a specific link. The system automatically excludes recipients who previously unsubscribed (ie unsubscribing is applied instantly), and also duplicate and invalid email addresses. Campaigns can be configured so link clicks update the CRM directly and in real time.
Outbound calling
A cohesive marketing campaign typically includes outbound calling, whether cold or warm it needs to be done efficiently. As a hosted call centre CRM this system has everything needed from automatic dialing, to automatic call-back management and agent management, also full scripting and call guides. Combined, as an email marketing and outbound calling CRM, FIVE is ideally suited to companies using remote and home working.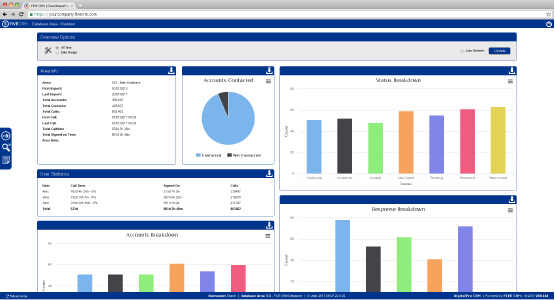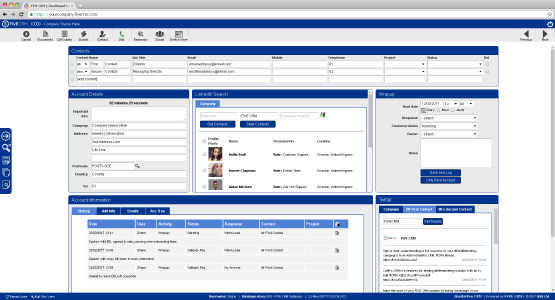 Email Marketing Tools
CRM and Email Performance Tracking
Gain understanding of how your team are performing, and other key metrics, with the ability to monitor real-time performance KPIs. FIVE features lead scoring, which allows you to add a score to accounts based upon responses, customer statuses and additional fields.
Range of tools available
Generate leads and sales on the web, in emails, SMS or via social media by creating outstanding landing pages. With FIVE you will have the tools to capture as many sales-ready leads as possible. The webforms functionality means web contact forms can feed the database in the same way that they can be used to send appointment feedback into the database to close the loop.