Lead Management: nurturing
FIVE CRM is lead management software, and nurturing prospects is the very essence of lead management. Very often converting prospects to customers cannot be done in one hit, it takes time and patience. The tools in FIVE enable you to keep in contact with the prospects, either by drip email campaigns, or by planned calls, or even by direct tweets. Collect complete activity logs and history to ensure nothing is lost.
Tracking
Use a range of interactive and batch tools to monitor leads and ensure nothing is left. This includes virtually unlimited data filtering where you may be looking for records with certain criteria, or indeed those that do not match certain criteria. Likewise with the reporting, so you could setup exception reports to be emailed if they find something not right.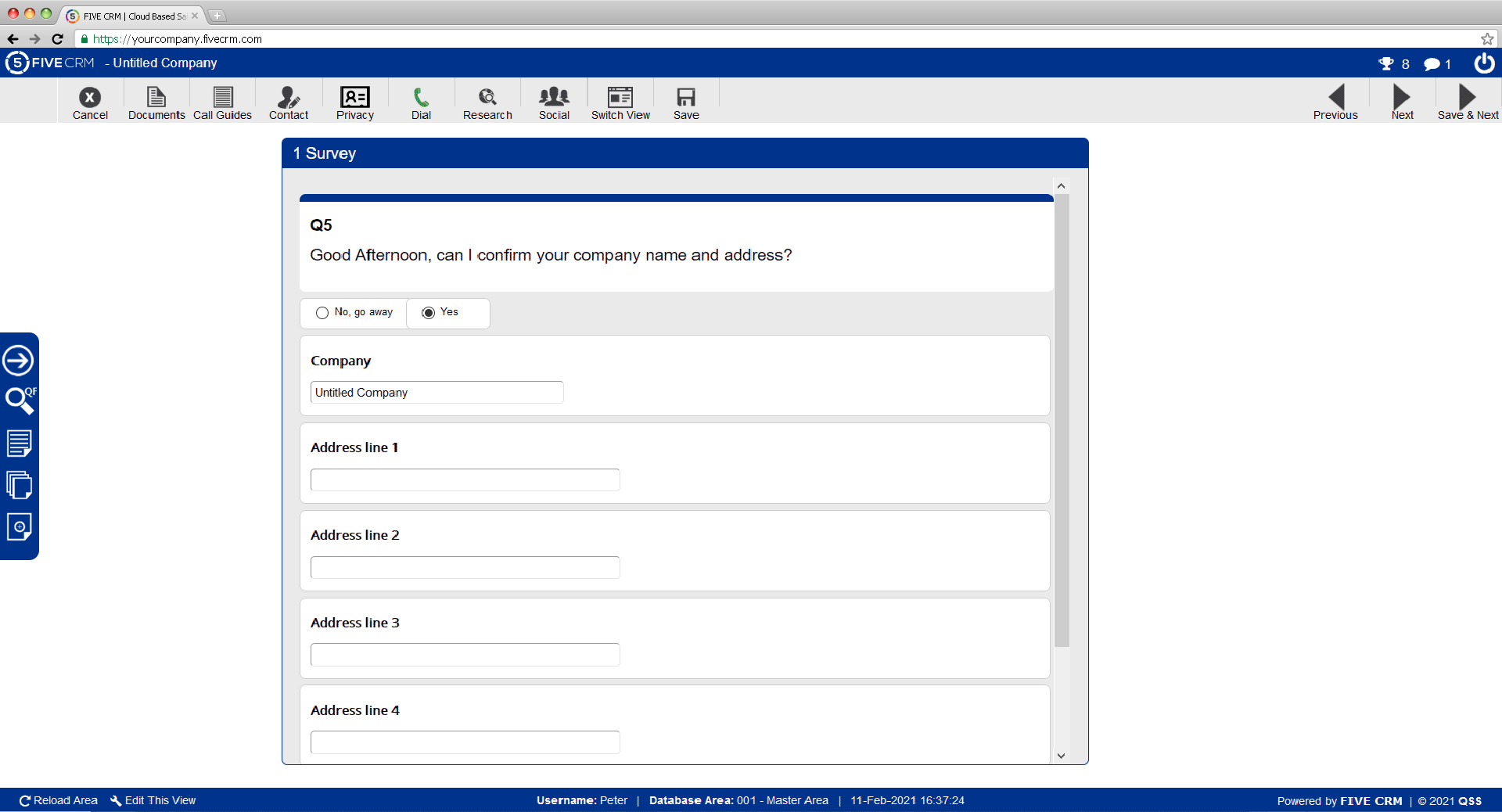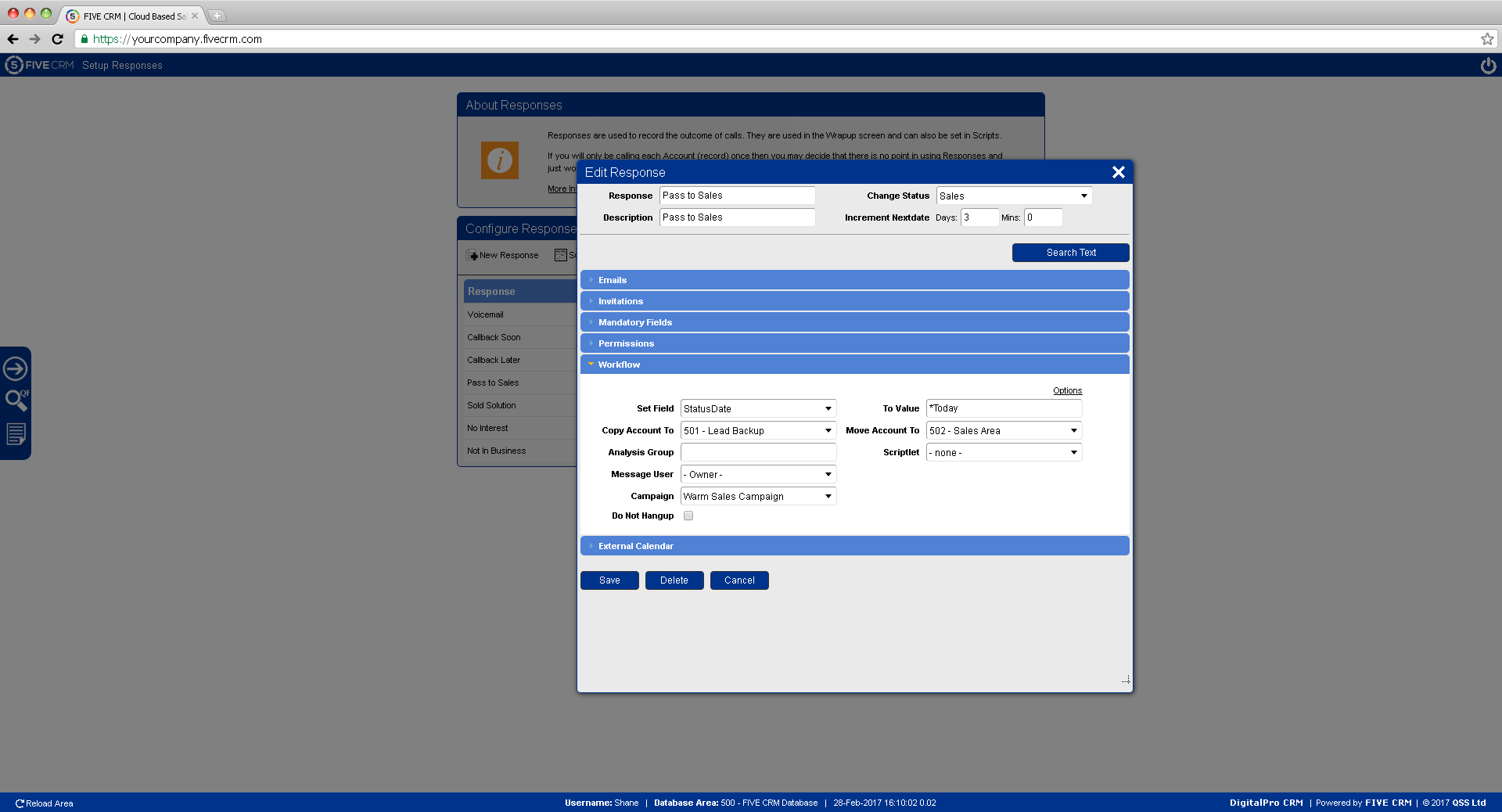 Sales cycle
Configure your own sales cycle to match your own way of working. Setup workflows to ensure that data moves through your predefined processes as planned. With the end goal being to get prospects over the line, each step can be monitored and measured.
Automation software
Setup email campaigns that do a dynamic selection on the database, for example, it may select all prospects that have got to a certain stage and nothing has happened for 3 weeks. The system would automatically email those prospects to give them a nudge and keep them on track; at the same time automatic reports could be emailing relevant staff to notify that certain accounts are getting behind and need intervention.
Save time managing leads
Leads are very precious, as is your time. Using FIVE you won't waste either by having the system automatically present you with the leads that need attention at the right time. Not only that, but FIVE will also tell you the best time to call those leads. Having predefined personalised email templates is a massive time saver, either by having the system send it automatically in the background, or you may want to further tweak and embellish the text.
Automated reports
Setup reports to email to you and team leaders with KPIs to ensure everyone always has the latest data. In addition, dashboards and wallboards show multiple reports and charts for quick instant updates. Using the built-in Report Writer you can create the reports you need without any technical knowledge, find your top performer, highlight leads that need attention or show off the latest greatest leads.
| | |
| --- | --- |
| • | Use AI to set the best call back time |
| • | Automatically present call backs at the right time |
| • | Find contacts via the internal LinkedIn tool |
| • | Tweet contacts directly from within FIVE |
| • | Real time live coaching on calls using listen/whisper/barge (with appropriate telephony) |
| • | Track deals with opportunity management |
| • | Can be used with a predictive dialer such as TCN.com or Noblesystems.com |
| | |
| --- | --- |
| • | Use automatic workflow cadence to ensure a contact mix that gets results |
| • | Use predefined call scripts, call guides and email merge templates |
| • | Full built-in advanced email campaigns |
| • | Get documents signed from FIVE using Docusign or Adobe Sign |
| • | Schedule automatic reports to keep on top of events |
| • | Use automatic dialing to eliminate wasted time (optional) |
Lead management
Lead management
The FIVE software system was designed to manage leads and prospects from end to end. Where "lead generation" is about creating new leads, "lead management" is about making the most of the leads you've already got. This means storing as much information as you can gather, as well as managing the call-backs and outbound emails to drive those leads forward.
Lead generation
Lead generation
For sales led companies, generating leads is the most important thing to make sure the pipeline is continually filled. One common way of working is to send email campaigns, track the opens and clicks, and followup those leads with phone calls. Having converted records from suspects to prospects it's then a case of managing those leads, again, perfect scenario for FIVE.
Telesales software
Telesales software
High volume calling cannot be done with traditional CRM's, for those scenarios where a high number of calls is needed for a given level of results, FIVE is a system that comes into its own. Everything from managing call-backs to call guides and call scripts is catered from within FIVE to ensure agents have the best chance of success.
Watch this video to see how FIVE could work for you